AJSTAB: No-slip divider paper sheets
AJP has 25 years of experience in the development of paper and plastic based technical products.
AJP has developed the manufacture of products for the security of people and goods while in transit.
The non-slip sheets secure your cargo during transport and during handling operations in warehouses.
We are able to study your problems regarding the transport and the security of your merchandise so enabling us to offer you the most appropriate solutions for your environment. Stabilization of merchandise, including fragile products via our non-slip products is a major issue for your merchandise to arrive in perfect condition.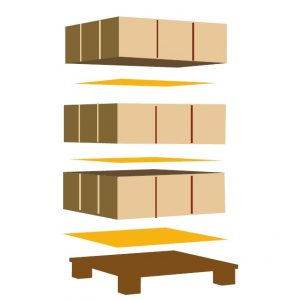 No-slip divider sheets "AJSTAB"
Our non-slip papers are coated with a formula developed by our research and development centre to obtain the optimum grip at a tilt angle of up to 50°.
Our range of product meets the new European standards that require the installation of non-slip dividing
sheets between each row of products to secure transport and prevent the tipping of goods.
Our range comprises the standard products, in 100 and 140 gr, coated on both sides, but also of all the other grades ranging from 50g to 300g, in reels or sheets.
Avantages "AJSTAB"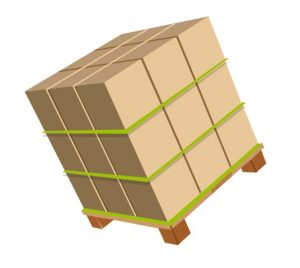 √ Security : Our non-slip dividing sheets for pallets stabilise the merchandise during transit and during loading and handling So reducing the risk of accidents.
√ Versatility : Can be adapted to all types of (paper, plastic film, cardboard, etc.). The non-slip dividing sheets are laid on the merchandise (European standard pallets) and are very easy to use.
√ Economical :Reduces packaging costs. They avoid breakages, or damage to the merchandise, during storage or transit.
√ Ecological : Non slip sheets, 100% recyclable and reusable.
√ Legislation : The European Code of Good Practice regarding the securing of loads on road vehicles (chapter 3.5.1 European standards), recommends and requires the use of non-slip mats in transit. Our non-slip dividing sheets meet European standards to protect your merchandise.
Data sheets AJSTAB :