Slitting and winding for plastic film, paper, and cardboard
With its extensive fleet of machines, AJP transform your jumbo rolls into smaller ones at precise dimensions (width from 20mm up to 1650mm) and can slice them to specific format as per your needs.
AJP can also provide paper, cardboard and plastic films of Polypropylene (PP), Polyethylene terephthalate (PET) & Polyethylene (PP). The materials are transformed at our headquarters and are tailor-made to suit your requests.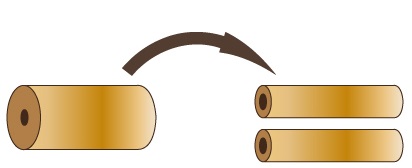 We provide cutting for different types of materials:
Plastic films: Polypropylene (PP), Polyethylene terephthalate (PET), Polyethylene (PP), Polyvinyl chloride (PVC)
Paper
Laminates of plastics, aluminum, etc.
Non-woven materials
Any flexible product that can be cut

We have a storage capacity of 2000 m2 to meet your requirements for plastics films, papers and cardboard very rapidly and at a competitive price.
Cutting Machine
AJP has machines to process paper or plastic jumbo reels for cutting, slitting and winding. Starting from a mother reel, AJP can do everything, transforming the reel into small size reels or several reels of the same width but with reduced diameters.
Learn more about our slitting and winding machines.